DMP utilizes 3D sand printers to directly produce sand molds without any initial tools. 3D CAD data will be used to perform casting simulations and the optimal casting design will be directly printed out. This technology provides fast delivery and freedom in design, making complex castings such as topological structures with high accuracy producible. Casting solutions for R&D prototypes and aftermarket parts are provided in materials such as cast iron, stainless steel, heat resistant steel and aluminum.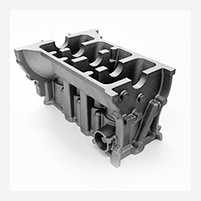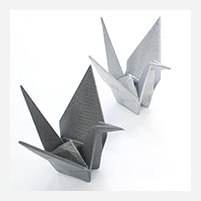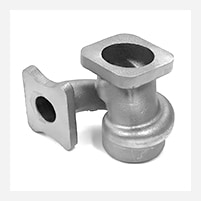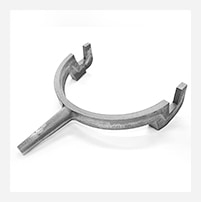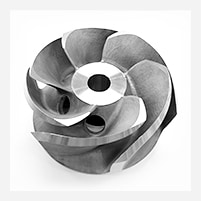 Standard Lead Time 7 days~ (Depends on requirements)

3D Sand Printing
3D sand printers do not require initial tools such as wooden and metal patterns which speeds up mold production rapidly. With our multiple sand printers, prototype casting production becomes even faster.
In-house 3D Printers
< Please scroll horizontally to browse >
| Printer | S-MAX | S-MAX-2BOX (x2) | S-MAX+ | S-MAX |
| --- | --- | --- | --- | --- |
| Manufacturer | ExOne | ExOne | ExOne | ExOne |
| Process | Furan | Furan | Phenol (resol) | Furan |
| Bending strength | >2.5Mpa | >2.5Mpa | >4.0Mpa | >2.5Mpa |
| Sand type | Sintered mullite sand | Sintered mullite sand | Sintered mullite sand | Sintered mullite sand |
| Layer thickness | 240μm | 240μm | 240μm | 240μm |
| Box size | 1,800×1,000×700 | 1,800×1,000×700 | 1,800×1,000×600 | 1,800×1,000×700 |
| Max printing time | ~25h | ~22h | ~30h | ~30h |
| Printing speed | 28mm/h | 33mm/h | 20mm/h | 23mm/h |
| | | | | |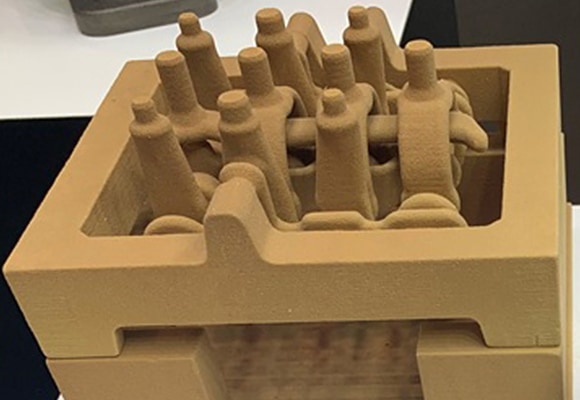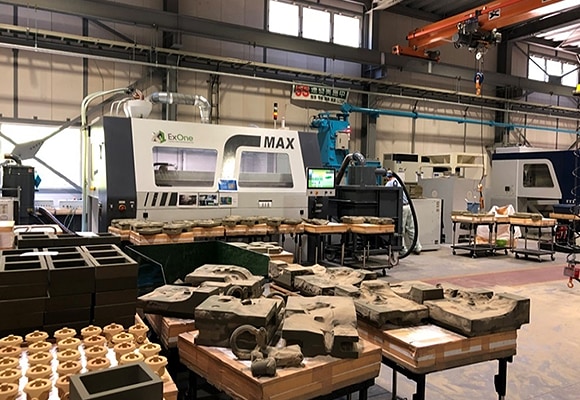 Our printer's have the highest level of printing speed and size, which produces sand molds and cores without initial tools such as wooden patterns. This makes rapid mold production possible for complex parts with high accuracy. We print with both furanic and phenolic binders depending on the required mold strength. Since physical tools are not required, the design data can easily be modified for the next production without any storage. DMP provides speedy solutions for small lot production.
Comparison of 2 sand molds: Furan and Phenol
1. Furan process
Self hardening furan process is commonly used in small lot casting production with features high production efficiency and high dimensional accuracy features.
2. Phenol process
By performing heat treatment after printing, this process provides high strength molds equivalent to shell molds. This process is effective in high temperature applications where furan does not have enough strength. Parts such as hydraulic control valves, bearing housings, cylinder heads and water jacket cores are produced with this process.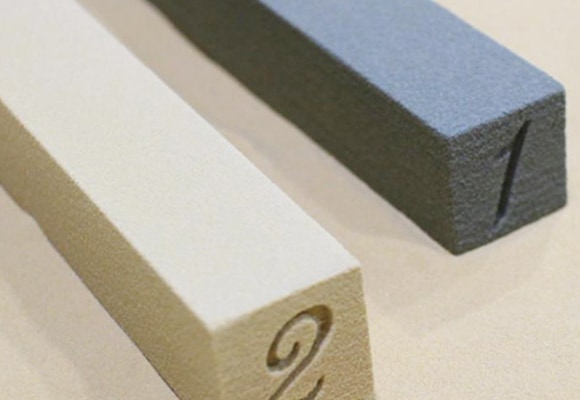 Technology to prevent veining defects with usage of artificial aggregate material for casting.
When using silica sand in 3D printing, the sand mold would crack when casting steel materials. We have developed an artificial sand that is durable for steel castings and provides a smooth casting surface.
Patent 5249447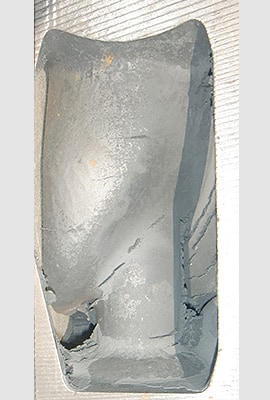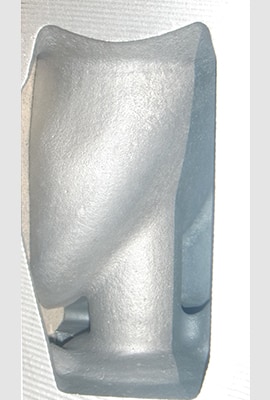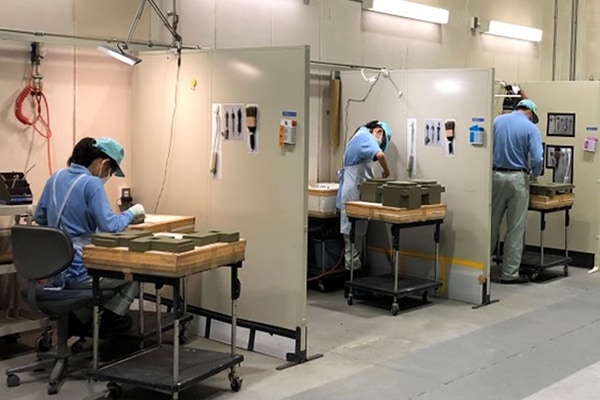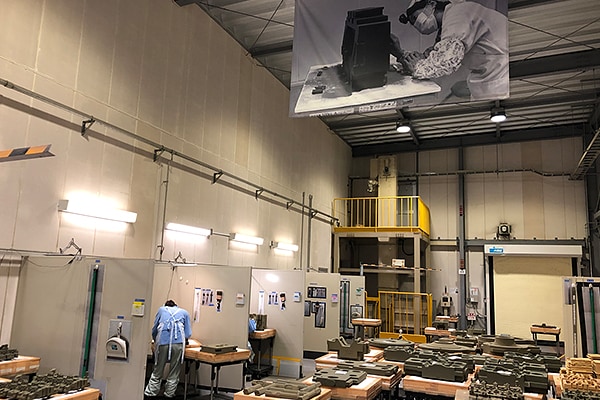 Castable Materials
We are capable of casting various ferrous and non-ferrous materials such as cast steel (stainless) and iron. The combination of our advanced and traditional technology leads to our high quality.
Material
< Please scroll horizontally to browse >
Material
Gray iron
(Flake graphite cast iron)
Ductile iron
(Spheroidal graphite
cast iron)
Vermicular iron
Ni Resist
Steel
Stainless steel
Aluminum
FC150
FC200
FC250
FC300
FCD400-18
FCD450-10
FCD500-7
FCD600-3
FCV350
FCV400
FCV450
FCDA-NiCr 20 2
FCDA-NiSiCr 35 5 2
SCH12X
SCH13X
SCH22X
SCH20XNb
SCS6
SCS13
SCS14
SCS18
AC2A,B-F
AC4A,B,C-F
AC4CH-FAC2A, 2B
AC4A, 4B, 4C, 4CH
With -F and -T6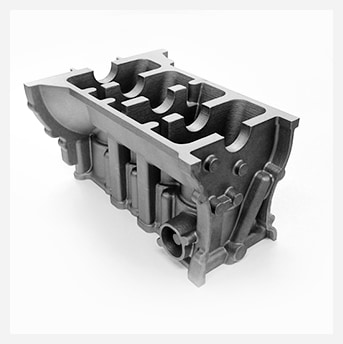 Cast iron
Dimensional accuracy CT7-9
JIS FC
JIS FCD
JIS FCV
Good castability matches complex parts. Used in various industries and applications for various part sizes and forms.
Engine parts, hydraulic valves, differential gear cases and other gear cases, bearing housings, compressor housings, brake calipers and knuckles, etc.
Heat resistant iron
Dimensional accuracy CT7-9
JIS FCDA
SiMo FCD
SiMoCr FCD
A ductile iron with alloys added for high temperature applications. Our main application is bearing housing prototypes for automotive.
Turbine housings, exhaust manifolds, EGR valves, pump casing, exhaust pipes, brake parts, etc.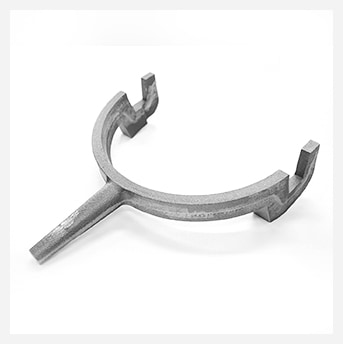 Cast steel
Dimensional accuracy CT8-10
JIS SC
A material used for parts that require higher mechanical properties than cast iron. Various features can be created by changing the chemical composition and performing heat treatment. Main application is prototypes for construction machinery.
Construction machinery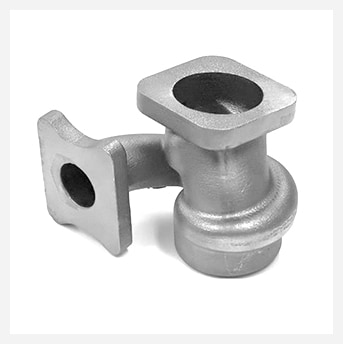 Heat resistant steel
Dimensional accuracy CT7-9
JIS SCH
A steel material with high amounts of alloys added for high temperature environment durability. Main application is prototype turbine housings for automotive.
Passenger cars, boats, turbine housings for race cars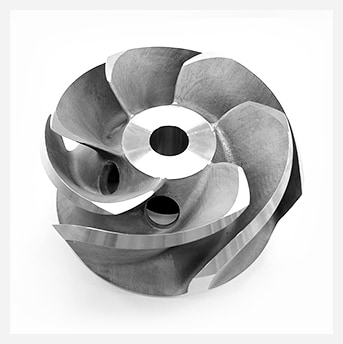 Stainless steel
Dimensional accuracy CT8-10
JIS SCS
A steel material used for anti-corrosion applications. Main product is stainless steel impellers.
Pump impellers, compressor parts, valve parts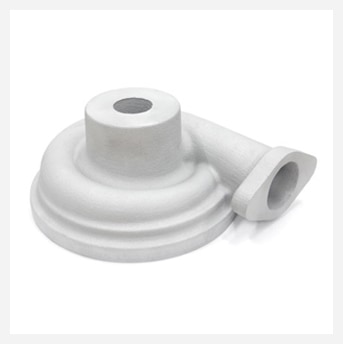 Aluminum alloy (AC4C)
Dimensional accuracy CT6-8
JIS AC4C
Al-Si-Mg cast aluminum material that is strong with corrosion and pressure. Heat treatment will help to increase the strength.
Used in applications such as compressor housings, pipes and other automotive parts.
Compressor housings, automotive parts, pump parts, pipe parts, etc.
(※Max weight 20kg)
CNC Machining
Implemeting new machining technology
High values are produced by providing high accuracy with complex parts. By combining CNC machining and metrology, we provide an one stop casting solution.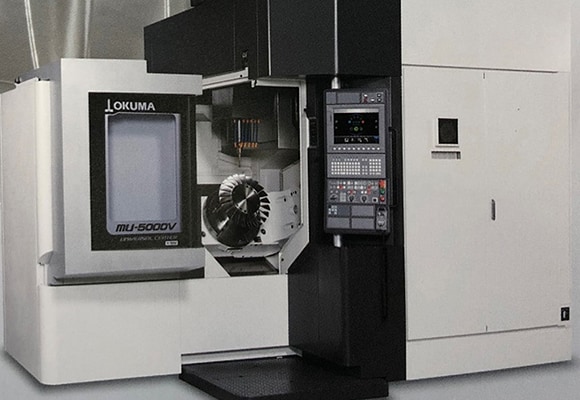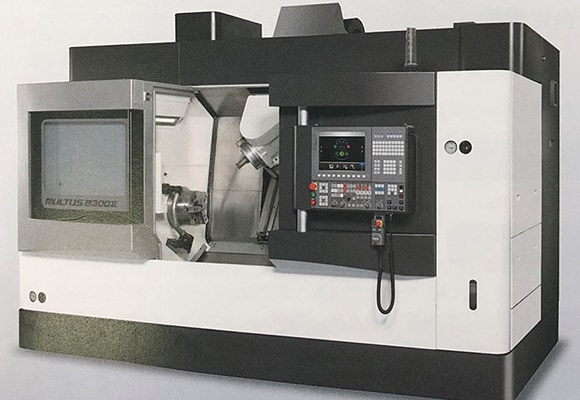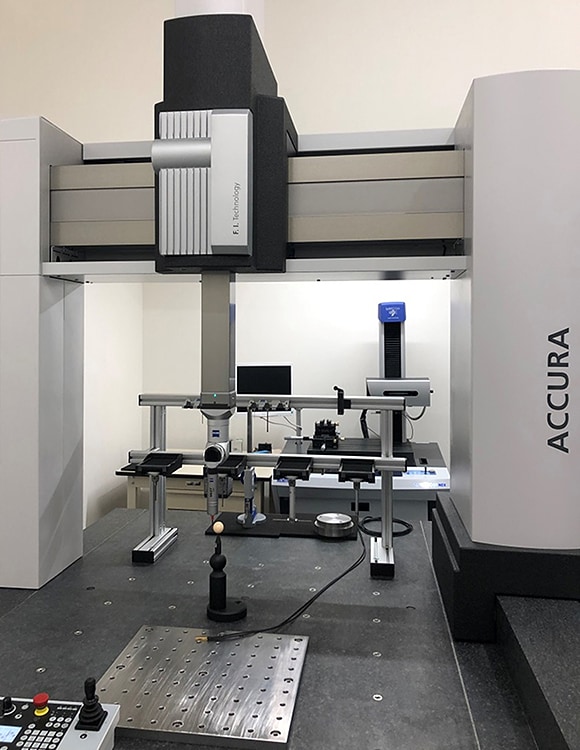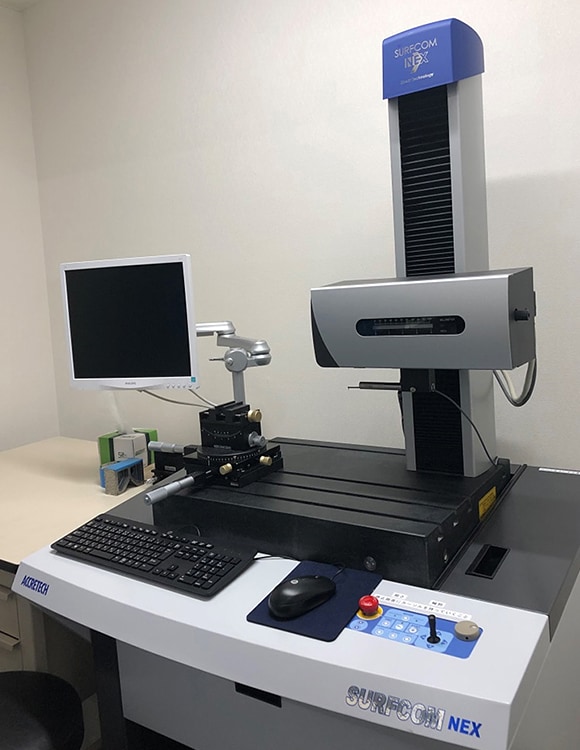 Quality Assurance
CAE technology used to assure quality of the first production
We utilize MAGAMA soft to analyze and predict possible casting defects in advance and to perform preventive measures. This helps us assure our high quality from the first pieces.

MAGMA soft is used to perform fast and high accuracy casting CAE analyzing, to make sure that the casting design is optimal. This process is especially important for parts with complex structures and high difficulty.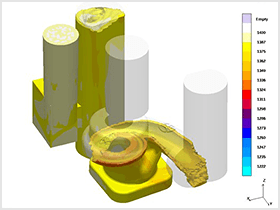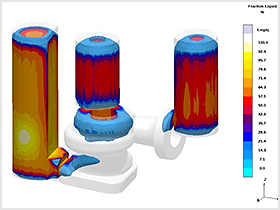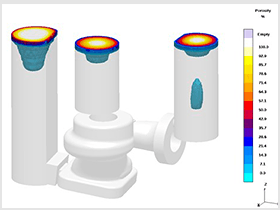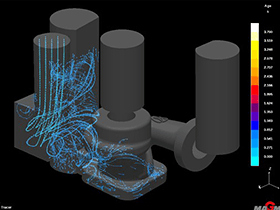 Product inspection
Product inspections such as mechanical property tests, non-destructive tests, 3D optical measurement (ATOS core GOM), laser scanning (Hexagon), CT scanning (YXLON), cut-up tests, etc. are performed to assure quality.
Dimentional inspection
・ATOS core
The 3D optical scanner "ATOS" measures the total product surface with high density mesh data. The profile map can be used to check if the product's dimensions are within the required tolerances and is provided to the customer.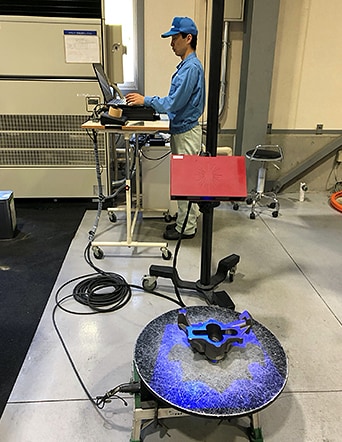 ・Laser Scanner (Hexagon)
This fast and accurate portable device can be used on surfaces that are difficult to measure by measuring and stitching points. We use this device as a flexible laser scanner.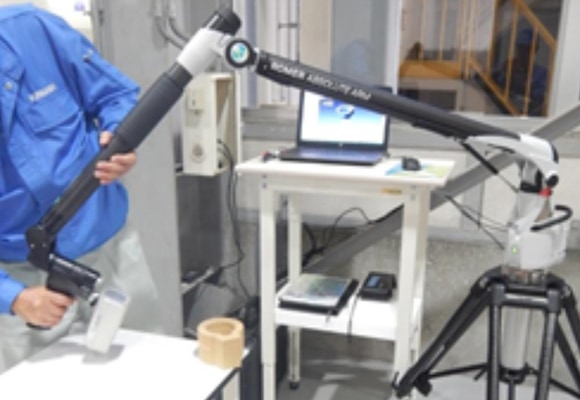 Internal inspection
・Y.CT Compact YXLON CT inspection system
Features
Y.CT Compact is optimal to inspect castings for automotive and aerospace.
・Heavy metal cast parts
・Steel/Aluminum parts
・Cyliner heads, engine blocks, transmission housing
Technical data
CT Cross section internal inspection for turbine housing
Sample diameter: 600X820mm
Max sample weight: 50kg
x-ray tube: Y.TU450-D11
Ct scan time (min): max 15sec/slice
Voxel size: 70μm
Inspection mode: fan beam CT
Manipulator: 3 axis (variable magnification)
Type of detector: YXLON CT Scan 3-0780 licenser
Max x-ray output: 450kv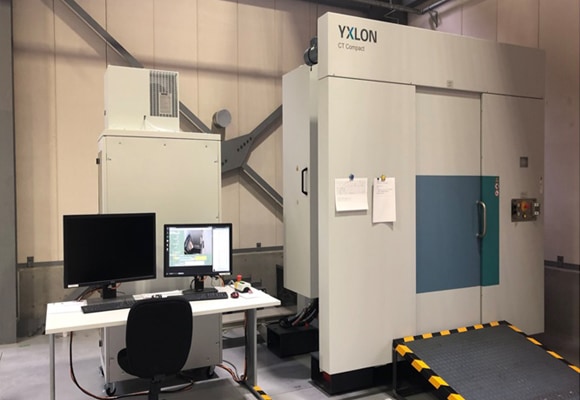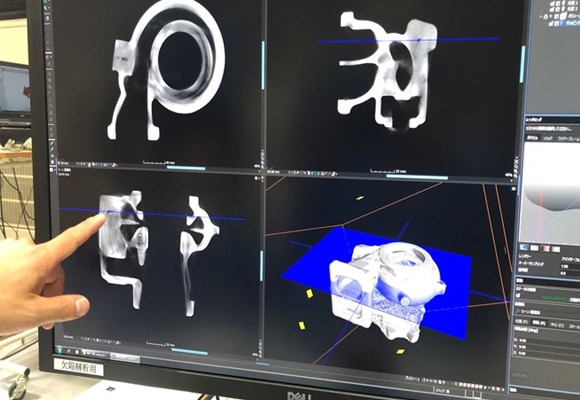 Inspections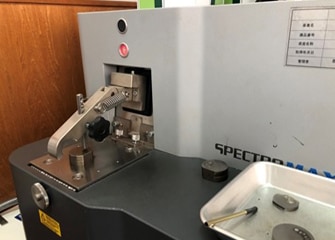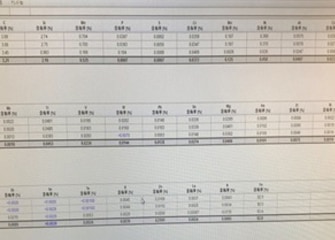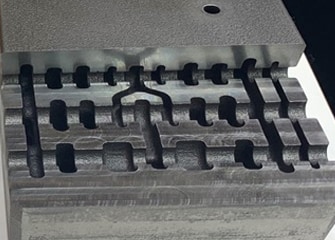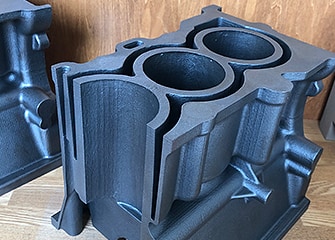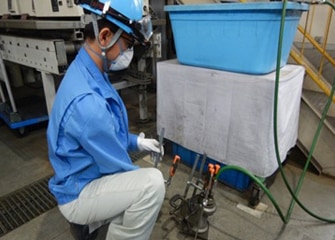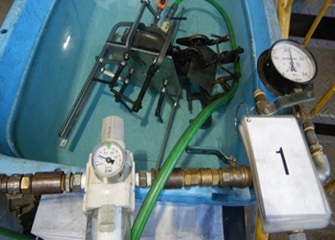 We perform inspections on strict rules to make sure that non-confirming parts will not go out. Material reports such as chemical composition, tensile strength and hardness will be provided.
Production Volume
We have started our direct molding process that uses 3D and printers in 2013 and have provided solutions to many customers with fast and reliable prototype castings. By 2018, we have produced 7,094 pieces in total with 80.7% iron and 19.3% steel materials. We will continue working to serve various industries with our wide casting solutions.