Machining
We undertake everything from machining to the application of coats on a one-stop basis.
Energy-related large-scale castings can also be accommodated.
In order to accommodate requests for the machining of energy-related large-scale castings received from clients, we introduced the MCR-C, a large-scale gantry machine made by Okuma Corporation, to the Omaezaki Processing Plant in November 2014. This now allows us to machine products measuring up to 7.0 meters in length, 3.2 meters in width, and 3.0 meters in height as we aim to incorporate higher levels of added value to our products in line with client expectations.
Depicted machine

MCR-C 35x80 / Gantry width 3,650 mm / Table length 7,700 mm / Max. height 3,600 mm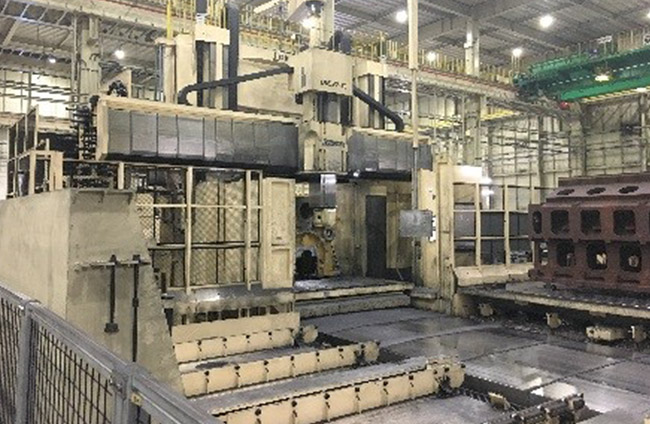 Depicted machine

MCR-C 35x80 / Gantry width 3,650 mm / Table length 7,700 mm / Max. height 3,600 mm
We consistently meet the expectations of our clients.
In an effort to satisfy the needs of our clients, we established a new machining division in Gunma in July 2014. (*See photograph)
Products measuring up to 6.0 meters in length, 2.5 meters in width, and 1.7 meters in height can be machined.
We introduced a number of processing machines—including Okuma's MCR-A5C II (gantry machine), MCV-A, Toshiba Machine's MPC, and Toshiba Machine's TSS-30/55 (vertical turning lathe for the machining of round castings) —in May 2015.
The establishment of a machining division in Gunma made it possible for us to provide the same service across three zones thanks to the links formed with manufacturing processes at each of our casting plants.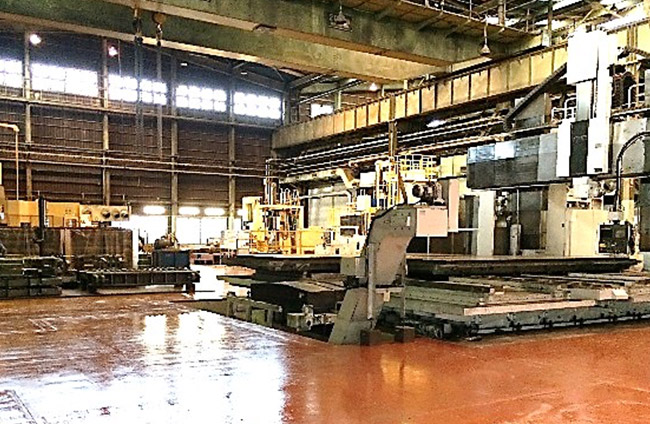 An integrated system of receiving orders that encompasses everything from the development of casting materials to the finishing of products
Entrust us with everything from the drafting of drawings to the production of casting materials and the machining of products. We meet the needs of our clients with machining technologies specially designed to enable the machining of different parts weighing between several dozen kilograms and over thirty tons with gantry machines. A range of different workpieces—including unitary press dies, industrial machinery, machine tools, and prototype components—can be handled across a broad range of quantities from a handful to several hundred per batch if needed. In addition to machining, we also fulfill requests to conduct pressure tests and apply coatings to products.
Digitization of machining skills with IT technology
We utilize 3D solid data in all of our processes and produce NC data with CAD/CAM systems. By undertaking a simulation using 3D solid data corresponding to the same form as the intended casting prior to commencing the processing steps, unexpected interference involving tools and uncut areas can be addressed in advance. We also produce 3D solid data and provide the same level of quality in response to requests to machine products based on drawings.
Wide array of equipment
The Omaezaki Processing Plant is a windowless plant that is fully equipped with climate-control systems to enable solid, high-quality machining work to be undertaken. Five gantry processing machines can make use of a pallet-changing function to smoothly accommodate requests for last-minute machining jobs.
(Pallet-changing machines: Omaezaki Plant: 4 units; Gunma Plant: 1 unit)
In order to be independently capable of machining industrial machines and energy-related round parts for which orders have been increasing in recent years, the Gunma Plant acquired Toshiba Machine's TSS-30/55 (three-meter table) and can now also turn large parts.
Situated in different regions, our three plants house highly efficient machines whose operations are managed in real time by operating-management monitors.
Pressure testing at levels up to 20 kg/cm2 can be conducted at the request of clients with our hydraulic testing facilities.

Collaborating with many machining partner manufacturers through casting activities
In order to accommodate a wide variety of machining needs for which processing machines other than gantry processing machines are required, we collaborate with machining partner manufacturers handling everything from single units to mass production machining and carry out machining by selecting machining partners who satisfy the machining requirements of our clients. We also comply with a spectrum of machining-only requests.
Engaging in new machining technologies
We are engaged in the high value-added machining of prototype parts (high-precision castings) produced with DMP technology. By harnessing machining technologies for conventional large castings to process ten-kilogram prototype castings, we are engaged in efforts to develop an environment that allows us to provide one-stop service (integrated receipt of orders) to clients in new market segments.